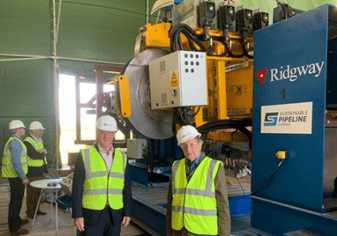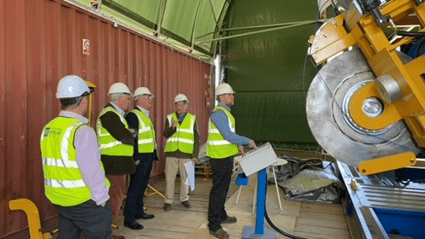 SPS were pleased to welcome Kevin Hollinrake MP to tour our pipeline technology test site near Malton on Friday June 2nd.
SPS are launching a partnership with a large mixed arable and animal farm, G Tindall & Son and a local pipeline owner, Third Energy to develop a localised hydrogen network near Malton. This aims to evaluate the use of solar generated hydrogen from electrolysers with permanent underground hydrogen storage using SPS flexible pipeline and digital monitoring system to see if larger farms can become energy self-sufficient, building blocks towards a hydrogen network. A localised distributed approach to hydrogen generation with surplus energy distributed for a variety of end uses would make better use of the available land mass than a top-down approach. This approach could repurpose existing assets and unblock connection problems that renewable energy locations are having.  Another project aim is also to explore a range of end uses for hydrogen at farm level such as animal feed production that could bring several skilled operations back onto farms, which have largely been depopulated. This would help localise sustainable food production.
Andrew Stevenson of SPS said "SPS advantage intelligent pipeline technology has the potential to play a key role in the energy transition where the government envisages a more distributed energy network at net zero by 2035".
Charlie Tindall of G Tindall & Son said "We are very excited about this partnership which will allow the farming industry the opportunity to diversify into the energy market and make a real difference to the going challenges we all face, making use of existing assets to allow the full energy cycle to be a closed loop approach within the local community is a fantastic opportunity".
Russell Hoare of Third Energy said "We are excited to be working with SPS
and G Tindall & Son on this project. It complements our own strategy of repurposing legacy fossilfuel assets for sustainable energy and having local partners to do this promises the creation of a rural hydrogen hub in North Yorkshire."
Kevin Hollinrake MP said "This project will hopefully establish the Malton area as a key area of advanced hydrogen technology in the UK. Projects like this show how important it is we encourage more apprenticeships in North Yorkshire – I'm continuing my efforts on this locally".
Quotations
"SPS technology potentially transforms pipeline construction and monitoring logistics to provide better, more economical products, particularly well-suited for hydrogen, brought on-line faster, for global operators".
Tony Green – National Gas Project Hydrogen Director
Editors Notes
For further information see www.sustainable-pipelines.com or contact: